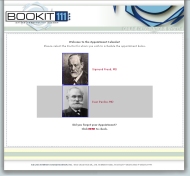 Visit our demo of Bookit111 and see what your visitors will see. The scheduler will be built to match the design of your web site.

APPOINTMENTS
Scheduling an Appointment
When your clients and customers visit your web site they'll use Bookit111 to schedule appointments at their convenience without ever having to stop by or contact your staff by phone. Your clients will appreciate the fact that there will be no more waiting on hold or rushing to make an appointment first thing in the morning when your staff arrives. Your staff will appreciate the fact that they can now deal with their everyday business without the constant interruption of people calling for an appointment. When an appointment is made, that appointment space is automatically marked as filled for subsequent site visitors and your staff receives an email message for informational purposes alerting them of the appointment. The visitor can also set a reminder for the system to send them an email to remind them of their appointment. Your staff will also use Bookit111 to enter appointments that come in by telephone or in person so all your scheduling is done in one place. An easy to use back office allows your staff to review, edit or delete appointments that have already been made. To get started with Bookit111, sign up today!
Setting Up Your Schedule
Setting up the Bookit111 appointment scheduling system is easy.
Step 1: Your primary system administrator will establish staff users who are allowed to access the system and will assign an appropriate access level to each of them. The administrator will also set up the main site variables such as whether this is an appointment system or a reservation system, the unit name (doctor, room, etc), whether or not to notify you by email when a visitor uses the system, whether or not to show time columns and the master name of the site.
Step 2: Your authorized staff or the administrator will enter the people who will actually be providing scheduled services such as your doctors, dentists, chiropractors, beauticians, etc. When you add a new person, you will select the specific days of the week your person will be working and an email address where appointment notifications will be received. You can also upload a photograph for the person.
Step 3: The standard daily appointment schedule for each person is entered. For each day of the week your person is working, you will select a "first appointment" time, a "last appointment" time and the increments of time that each appointment will last. For example, on Monday Doctor Smith might have appointments every 15 minutes from 8 to Noon and every hour from 1 to 4. You can even exclude specific days such as vacations or holidays and specific times such as an afternoon off for golf.
That's it!! Your site visitors are now ready to schedule their own appointments. The system is quite flexible and can be modified to meet the unique needs of any of your people.
Pricing
$15/mo/3 scheduled people + $5/mo/ea extra person
DOCTORS, DENTISTS, CHIROPRACTORS
How many times have you been frustrated by the process of making an appointment? Well, you can be sure that your patients are in the same boat. They have to wait for the office to open to make an appointment and then wait on hold with everyone else who has done the same thing. Leaving a message is often unproductive since the times you have available may not match the times they can come. Now there is no more need for this frustration. Bookit111 eases the pain of making an appointment, allowing your visitors to be set up for appointments on a first come, first served basis. You can even reserve a few appointment times for emergencies if you want, so you're not caught being unable to provide service to a client with an emergency.
TANNING SALONS, BEAUTY SALONS, BARBER SHOPS, DAY SPAS, ELECTRICIANS, PLUMBERS
Wouldn't it be great if your clients could visit your web site and schedule themselves without having to call your staff? Not only does Bookit111 save them time, but it saves your staff time, too. Now your people can apply themselves to more productive work instead of standing by the phone and being distracted by incoming appointment calls. Your clients will be delighted with the ability to make appointments on their own schedule, 24x7, too.
SIGN UP TODAY
To take advantage of this great appointment system, contact us today so we can get you started.